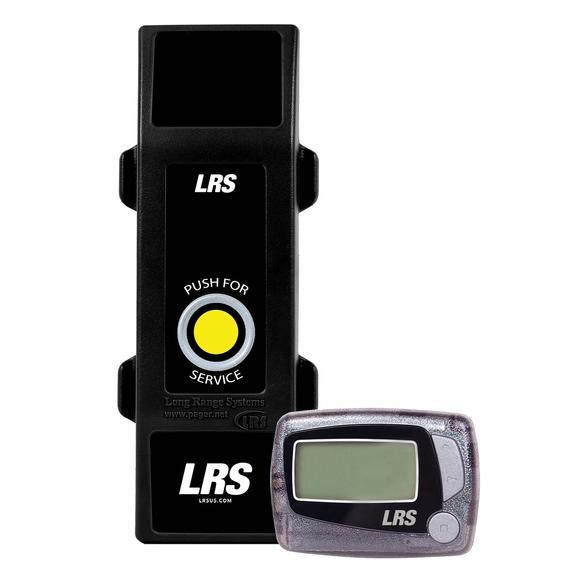 LRS Butler XP Push-for-Service System (1, 5, 10, 15 or 20 Pagers)
The LRS Butler XP Push-Button Paging system is the ideal solution when needing to contact someone within the facility instantly. With the touch of a button, a silent alert is delivered to anyone in your building wearing an LRS messaging pager.

Used for instant notification when assistance, back-up, or a staff member is needed, this system is great for any service-oriented environment. The push-button paging system includes one LRS Butler XP transmitter, and one LRS messaging pager that features a display screen that can receive text messages with up to 200 alpha or numeric characters.

Typically used where service is requested such as outdoor or poolside dining areas, showroom floors, doorways, store aisles, or hospitality areas, the Butler XP keeps staff accessible when needed to provide better service.   
Includes: 
(1) Single Push-Button Butler XP Transmitters
(1) alphanumeric staff messaging pagers, and access to software program to set-up your devices
The battery-operated pager uses 2AA alkaline batteries (lasts up to 6 months), alerts manager when power is low, can receive a four-line message up to 200 alpha or numeric characters, and can hold up to 25 messages.

The Butler XP push-button transmitter is 100% weatherproof, made of heavy Lexan plastic, and transmits up to one quarter mile away.

Great support, 1-year warranty on all parts, additional pagers and parts sold separately. 
Also used in the UK for emergency call buttons on-site. Many references of saving lives exist... please ask..
NOTE: Shipping quoted is for mainland UK only... elsewhere call 01782537000 for shipping price.
Exclusions: Not applicable outside of the UK, IRELAND & ICELAND due to frequency channel regulations. International sales requests outside of the UK, IRELAND & ICELAND  are handled directly by LRS at www.lrsus.com.

Restrictions: All online orders are restricted for purchase and use within the UK, IRELAND & ICELAND only. LRS is not responsible for any product purchased via the web for use outside of the UK, IRELAND & ICELAND, warranty is voided for any product used outside of the UK, IRELAND & ICELAND.
Please note that if you apply for our VIP (no-cost) membership card here then you can use your membership card number for up to 50% discount depending on the product. You can call us on 01782 537000 and we can send one out immediately!