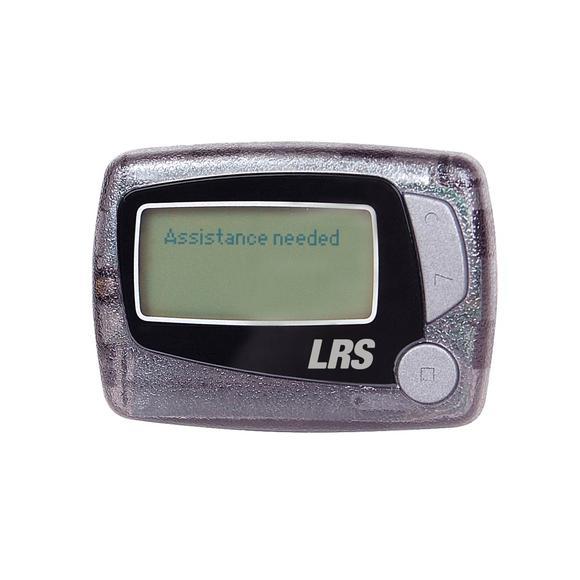 ALPHA Staff Pager
The LRS Alphanumeric Staff Pager is a great option for sending employees a message and alerting them when needed. The pager has simple menus and provides unique features like auto on/off and deleting messages. When coupled with LRS applications like NetPage Unlimited, more advanced features like group paging, task management, and other options are available. 
Features:
(1) Alphanumeric Staff Messaging Pagers (RX-E467) that will be pre-assigned number 1 unless specified by contacting an LRS sales or reseller representative directly to place and order. Recommend calling to indicate the assignment of pager number(s) needed.
4-line, 200 character display that holds up to 25 messages. Vibrate, beep, and other alert modes; and may support up to 5 staff groups when sending group messages.
Operates on a single AAA battery, and the on/off switch allows for increased battery-life; plus there's a low-battery indicator.
Optional pager cradle for attaching to the hip.
No installation required, simple DIY set-up and easy to program.
Exclusions: Not applicable outside of the UK due to frequency channel regulations. International sales requests outside of the UK, IRELAND & ICELAND  are handled directly by LRS at www.lrsus.com.

Restrictions: All online orders are restricted for purchase and use within the UK, IRELAND & ICELAND only. LRS is not responsible for any product purchased via the web for use outside of the UK, IRELAND & ICELAND, warranty is voided for any product used outside of the UK, IRELAND & ICELAND.
CALL FOR PRICING NOT AVAILABLE ONLINE - 01782 537000