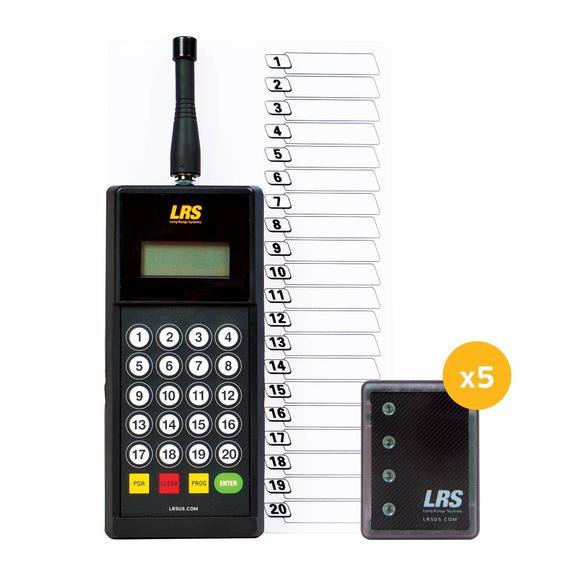 LRS Staff Paging System (5, 10, 15 and 20 kit sizes available)
LRS Staff Paging System is a low-cost staff paging solution for a small business. It keeps staff informed about guest needs or tasks, allowing co-workers and management to alert one another. The four LED lights may be programmed to light up individually or altogether to indicate the various messages to staffers are being alerted. Includes your choice of up to 20 pagers. Unit supports up to 9999 pagers.
Typically used by restaurant servers, this staff paging system keeps servers on the floor taking care of guests; not in the kitchen waiting on food. Ideal for service-oriented businesses, the transmitter can page up to 20 staff members with a simple push of a button. The system can easily expand from 5 pagers to more as needed. Unit supports up to 9999 pagers.
Features:
Includes: (5) Rechargeable Staff/server Pagers numbered 1-5 (RX-SP4), (1) Staff Transmitter (TX-9560EZ), (1) charging base with power supply (CH-R9).
Contact up to 20 servers with a simple touch of a button, automatically notifying staff of tasks.
Unit supports up to 9999 pagers.
Perfect for smaller fast-casual or casual-dining restaurants, staff paging at doctors offices and clinics, staff alerts for any business or establishments.
No installation required, simple DIY set-up.
Great support, 3-year warranty on all parts, additional pagers and parts sold separately.
NOTE: Shipping quoted is for mainland UK only... elsewhere call 01782537000 for shipping price.
Exclusions: Not applicable outside of the UK due to frequency channel regulations. International sales requests outside of the UK, IRELAND & ICELAND  are handled directly by LRS at www.lrsus.com.

Restrictions: All online orders are restricted for purchase and use within the UK, IRELAND & ICELAND only. LRS is not responsible for any product purchased via the web for use outside of the UK, IRELAND & ICELAND, warranty is voided for any product used outside of the UK, IRELAND & ICELAND.
Please note that if you apply for our VIP (no-cost) membership card here then you can use your membership card number for up to 50% discount depending on the product (excludes special offers). You can call us on 01782 537000 and we can send one out immediately!