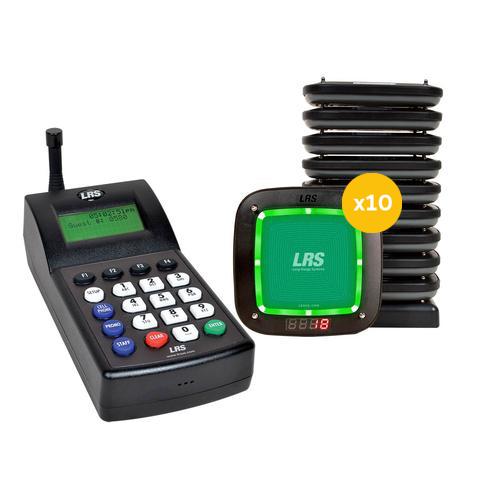 LRS Connect Guest Pager PRO CS7 Kit 10, 15, 30, 45, 60
WHY LRS? 
The LRS Connect paging system includes 10 Guest Pager Pro's and an LRS Connect internet-ready transmitter. Includes your choice of up to 60 pagers. With an LRS Connect paging system, choose to text message customers on their phone or notify customers via a pager. Integrate with other software tools like wait list applications or point-of-sale systems, and measure wait time data and analyse trends.

The LRS Connect paging system is trusted by businesses to better serve their guests including restaurants, doctors offices, salons, automotive shops, and many others. Guest Pager discreetly alerts customers with a buzz and flashing light when service is ready, or texts message to their mobile phone (SMS plans sold separately), giving customers the freedom to roam the area or continue shopping knowing they'll be instantly notified when needed.

The Guest Pager Pro offers a digitally displayed number you can update when needed, a variety of brightly illuminated LED light colors and a vibration that can be set in various notification modes like flash or glow.

This LRS paging system may be connected with LRS' free wait list and paging applications, or connected to third party systems.

Features:
Includes: (10) LRS Guest Pager Pro pagers numbered 1-15 (RX-CS7), (1) LRS Connect Transmitter (TX-7470), (1) Charging Base (CH-R8-15), (2) Power Supplies.
Compatible with the free LRS wait list and paging applications, On Cue and Table Tracker, offering the option to SMS text message or page an LRS pager.
Perfect for: restaurant paging, patient paging at doctors offices and health clinics, parent alerts for church child care, and other service establishments.
No installation required, simple do-it-yourself set-up.
Great support, 1-year warranty on all parts, additional pagers and parts sold separately.
NOTE: Shipping quoted is for mainland UK only... elsewhere call 01782537000 for shipping price.
Exclusions: Not applicable outside of the UK due to frequency channel regulations. International sales requests outside of the UK, IRELAND & ICELAND  are handled directly by LRS at www.lrsus.com.

Restrictions: All online orders are restricted for purchase and use within the UK, IRELAND & ICELAND only. LRS is not responsible for any product purchased via the web for use outside of the UK, IRELAND & ICELAND, warranty is voided for any product used outside of the UK, IRELAND & ICELAND.
Please note that if you apply for our VIP (no-cost) membership card here then you can use your membership card number for up to 50% discount depending on the product (excludes special offers). You can call us on 01782 537000 and we can send one out immediately!