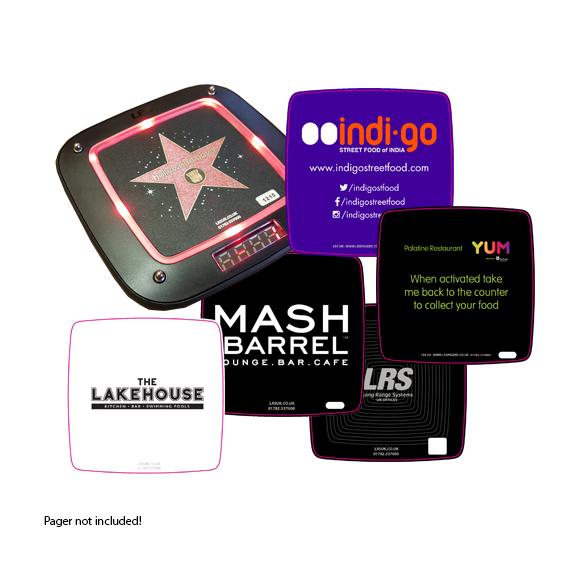 Custom Labels for CS6 and CS7 Pro Pagers
The Custom Label Option for CS6 & CS7 Pro Guest pagers an option that allows operators to brand the pager for their organisation. The design options are limitless and we show a few different brands that we have made for clients historically.
Features:
Custom Label that is robust and will not easily be removed.
Low quantities available - price on request
Free design service if needed
Ability to supply custom artwork for production
Because this item is a custom item we will need your artwork to quote. However we can quote for just 30 labels and upwards to thousands if needed. 
Call 01782 537000 for your quotation.
Exclusions: Not applicable outside of the UK due to frequency channel regulations. International sales requests outside of the UK, IRELAND & ICELAND  are handled directly by LRS at www.lrsus.com.

Restrictions: All online orders are restricted for purchase and use within the UK, IRELAND & ICELAND only. LRS is not responsible for any product purchased via the web for use outside of the UK, IRELAND & ICELAND, warranty is voided for any product used outside of the UK, IRELAND & ICELAND.
CALL FOR PRICING NOT AVAILABLE ONLINE - 01782 537000