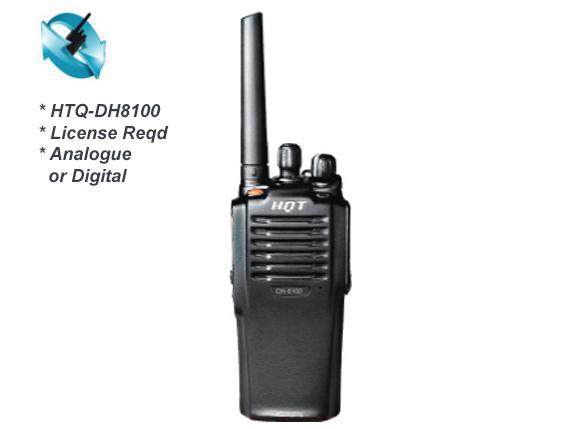 HTQ DH8100 Radio Handset
Licensed Radio Handset
Dual Modes (Analog + Digital)
DH-8100 can operate in either analogue or digital mode. It is compatible with the prevalent analogue system, ensuring a smooth analogue-to-digital transition. 
Versatile Voice Calls
Intelligent signalling of DH-8100 supports various voice call types, including Private Call, Group Call, All Call and Emergency Call.
Vibrate (Optional)
This feature is helpful in reminding you of the reception of any Private Call, Call Alert under noisy or low-volume conditions.
Patrol
It is customized specially for users in property. Patrol Planning, Patrol Data Inquiry and Log Statistics can be customized with HQT Patrol System, which enables your work to be easier and more convenient. 
Key Features:
• DMR digital two-way radio
• Waterproof, rugged & robust design, (IP67 & MIL-810)
• 1.5W of loud, clear audio via 45mm ø speaker
• 16 user selectable channels
• 2200mAh Li-Poly battery pack
• ETSI DMR Standard (Motorola/Hytera compatible)
• Analogue mode with CTCSS/DCS
• 3 programmable function buttons, including orange panic button
• Voice annunciation (switchable) for channel and features
• Vibrate alert for selectable call types
• Emergency alert, lone worker and man-down built-in as standard - all fully configurable
• Dimensions 126 x 53 x 33 mm (exc. aerial), 300g (inc. battery)
• Firmware upgradeable to allow future enhancements
• Supplied with antenna, battery, desk charger and belt clip
Secure Communication
DH-8100 provides high-level digital encryption utilizing advanced 216-bit encryption algorithm; In analogue mode, it also provides Scrambler feature (Selectable).
Upgradeable Software
With this capability, you can enjoy further features without the need to buy a new radio.
NOTE: Shipping quoted is for mainland UK only... elsewhere call 01782537000 for shipping price.
Exclusions: Not applicable outside of the UK due to frequency channel regulations. International sales requests outside of the UK, IRELAND & ICELAND  are handled directly by LRS at www.lrsus.com.

Restrictions: All online orders are restricted for purchase and use within the UK, IRELAND & ICELAND only. LRS is not responsible for any product purchased via the web for use outside of the UK, IRELAND & ICELAND, warranty is voided for any product used outside of the UK, IRELAND & ICELAND.