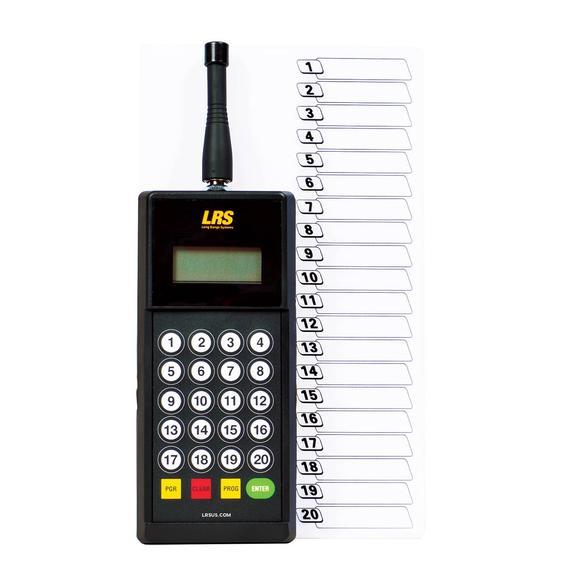 LRS Staff Transmitter TX-9560EZ
The LRS Staff Transmitter offers a simple one-touch design to page staff instantly - perfect for kitchens. It is the most affordable option for a non-Internet enabled LRS staff paging system. It is popular for paging staff and servers at restaurants and other service-oriented businesses because of its single-touch design. Quickly page or message up to 20 staffers, or multi-touch to page more than 20 staffers. Add a dry-erase board to list staffers assigned to each pager to reference at a glance. 
Features:
(1) Staff Transmitter (TX-9560EZ), works with all LRS pagers, both guest and staff; but primarily used for staff messaging due to it's unique one-touch paging design. 
Supports up to 799 guest pagers.
Multiple default alert/vibration modes. 
UHF frequency (420-470 MHz).
4-line display screen.
The power supply is not included
Exclusions: Not applicable outside of the UK due to frequency channel regulations. International sales requests outside of the UK, IRELAND & ICELAND  are handled directly by LRS at www.lrsus.com.

Restrictions: All online orders are restricted for purchase and use within the UK, IRELAND & ICELAND only. LRS is not responsible for any product purchased via the web for use outside of the UK, IRELAND & ICELAND, warranty is voided for any product used outside of the UK, IRELAND & ICELAND.
NOW AVAILABLE ONLINE 
Please note that if you apply for our VIP (no-cost) membership card here then you can use your membership card number for up to 50% discount depending on the product (excludes special offers). You can call us on 01782 537000 and we can send one out immediately!